Sisters Awesome Boxers
Even more AWESOME dog food recipes!!!
We quite by accident created this recipe...it comes from an organic baby food that we tried to get one of our group to start eating again after having a large litter of puppies....it was a great hit and all our "crew" readily and very willingly gobble it up!!
HEAVENLY TURKEY BARLEY STEW!!
2 pounds of ground turkey meat
1- 40oz can of sweet potatoes or fresh baked sweet potatoes
1- 11oz box of quick cook barley
1 cup of applesauce
1- 32oz box of chicken broth
Cook the turkey meat. Prepare the barley according to package directions. Add the cooked turkey meat, sweet potatoes (with the liquid drained off), cooked barley and applesauce in the food processor. Blend until smooth. Stir in the chicken broth. Place in airtight container and store in refrigerator.
Can be served as is in place of usual diet or added to softened chow. Usual amount is 1/4 cup over usual softened chow.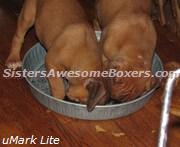 It's good to the very last bite!!
There is no psychiatrist in the world like a puppy licking your face. ~Bern Williams